Diamond Comparison Chart
budget
.
Download and print our diamond comparison chart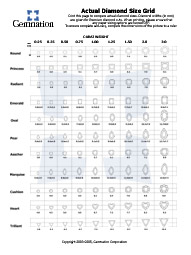 Download and print our useful actual diamond size comparison chart. (260 KB)
You will need the Adobe Reader software in order to view and print the document.
* Please ensure that the document prints at actual size. All options to shrink or expand the document
&nbsp should be turned off in the Print properties dialog box.
Buy Books about Diamonds and Gems
Gemnation has partnered with Amazon.com to bring you
the most relevant
diamond, gem and ring buying books
and guides.